The Fanzines! Festival in Paris is over, and the exhibition has been dismantled, but as promised, all the contributed zines are now part of the collection of the Marguerite Duras public library, and can be read there and borrowed home.
When I got a confirmation from the festival crew that they had received my zines, and they wrote that they would do their best to present them in the best possible way at the exhibition, I thought to myself, "yeah, yeah, you write that to everybody (but in fact you hate my un-artsy zines) …"
And I'm sure they did write that to everybody, but they really did do their very best to present all the zines, artsy or not, in the best possible way! They did a very good job at displaying the zines in a both visually pleasing and reading-friendly way.
Here are a few photos from the festival's opening, where you can spot Tunguska …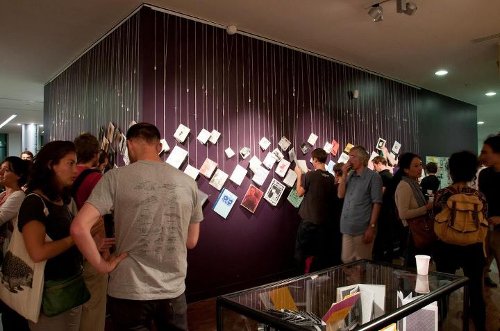 Tunguska #9 hangs on the wall there!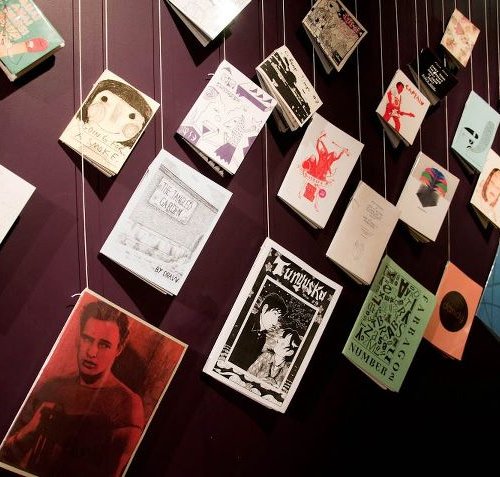 And below, in the box behind the hipsters where the lady is browsing, that is the back cover of Tunguska #3! It looks like the other issues are also there in the box.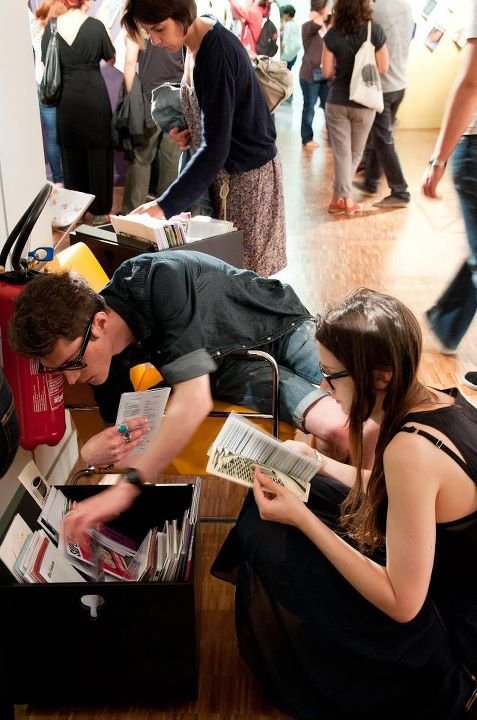 Photos by Caterina Sansone, via fanzines.papiergache.net.
There are many more lovely photographs on the festival's facebook page!
I'm sad I couldn't be there.
24th-25th of September: Gothenburg Book Fair
On Saturday, the 24th, at 17.00-17.45 I shall partake in a comics battle!
On Sunday, the 25th, at 13.00-13.45, I will discuss comics and the Swedish child pornography laws together with Magnus Knutsson, Maria Abrahamsson and Fredrik Strömberg.
And right after that, on Sunday at 14.00-14.45, I will talk about self-published comics with Stef Gaines and several other Swedish self-published comics people.
All of the events will happen at the comics scene, Seriescenen, located at A02:39!
1st-23rd of October: Fanzines! Festival, Paris
I won't be there personally, but among the hundreds of zines from all over the world in the exhibition are all the comics zines I've ever made! All the zines will remain in the collection of the Marguerite Duras public library after the festival, which will make it one of the coolest libraries ever.
24th-26th of November: Gothenburg Comics Festival
I will partake in this festival in my favourite part of my favourite Swedish city with a small exhibition, featuring part of the final chapter of Driftwood. That comic is quite significantly influenced by the period when I lived in Hjällbo and went to high school in the same building complex where the festival is held. I'll also sell some books and zines to the unsuspecting audience. (It would be cool if I could have the final issue of my zine Tunguska ready by then, but knowing me and my work ethics I won't promise anything yet …)