The Gothenburg Book Fair is the main event for the publishing industry and its readership in Sweden. I don't go every year, but this year I was invited to talk and perform.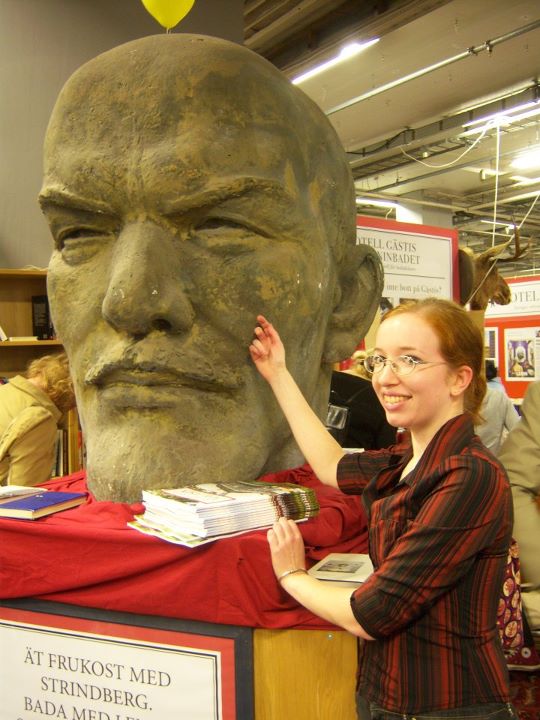 Lenin comes every year, to promote a very special hotel in Varberg, which is full of books and Soviet memorabilia (including an exact replica of the interior of a bath house in Petersburg that Lenin liked to frequent).
24th-25th of September: Gothenburg Book Fair
On Saturday, the 24th, at 17.00-17.45 I shall partake in a comics battle!
On Sunday, the 25th, at 13.00-13.45, I will discuss comics and the Swedish child pornography laws together with Magnus Knutsson, Maria Abrahamsson and Fredrik Strömberg.
And right after that, on Sunday at 14.00-14.45, I will talk about self-published comics with Stef Gaines and several other Swedish self-published comics people.
All of the events will happen at the comics scene, Seriescenen, located at A02:39!
1st-23rd of October: Fanzines! Festival, Paris
I won't be there personally, but among the hundreds of zines from all over the world in the exhibition are all the comics zines I've ever made! All the zines will remain in the collection of the Marguerite Duras public library after the festival, which will make it one of the coolest libraries ever.
24th-26th of November: Gothenburg Comics Festival
I will partake in this festival in my favourite part of my favourite Swedish city with a small exhibition, featuring part of the final chapter of Driftwood. That comic is quite significantly influenced by the period when I lived in Hjällbo and went to high school in the same building complex where the festival is held. I'll also sell some books and zines to the unsuspecting audience. (It would be cool if I could have the final issue of my zine Tunguska ready by then, but knowing me and my work ethics I won't promise anything yet …)