My computer fell in a coma a few days before we left New York, either because of that ridiculous "Antivirus System Pro" virus (the first virus in my life – which I think I got from the IMDB forums!!!?), or actually because of a bad Windows update that I installed right after I thought I had successfully removed the virus.
In the process I perhaps most importantly lost my password for my Rambler.ru email account, so anyone who has tried to email me recently at kommiekomiks@rambler.ru and hasn't gotten a reply, please try again, but this time to tinet.elmgren@zoho.com!
I salvaged a lot of files by first reinstalling Windows without reformatting the disk. But I of course still lost all Windows folders, among them "My pictures". (I should have known that the "My documents" folder should be the last place to put important files that are not backed up! Let alone that there should be NO important files that are not backed up somewhere …)
With the help of Uneraser I was able to recover a lot of photo originals from my camera's memory card, but the first ones in each batch had been overwritten with new photos. From my hard drive Uneraser could only recover thumbnails of some of those photos. Here are the best lost photos from the beach in Sandy Hook, New Jersey:
We were truly jinxed with our Sandy Hook photos – Ilan accidentally erased all his photos from the trip right afterwards. I was only able to recover some of the latter part of my Sandy Hook photos in original size. And to top it off, I forgot the nice singing seashell I'd found on the beach in Ilan's parents' apartment! Oh noes! But at least that one is safely stored until we meet again.
Here are a few of the best lost photos from various places on Manhattan:
All my day job files were neatly backed up, so no losses there.
But I lost all the textile design files that I had been working on in New York. However, I had already uploaded the most recent versions to Spoonflower, so they are not completely lost! I just can't work on them on my computer anymore. But if the colours come out wrong in print I can still change them a bit inside Spoonflower. Whee!
I would have liked to use the Eva pattern for print projects, too, but maybe there is a way to scan it from the fabric so it looks decent.
Or I'll just have to recreate it. V`(oo)´V (*piggy-sigh*)
There is a lot more to report. I got a new (well, used) camera – a Canon EOS Digital Rebel XSi -, I designed a website for the most eminent Miriam Katin, etc. … I'll post more photos and write more later.
Here are a few tips for myself in the future:
– Don't use Windows (Unfortunately I'm too poor to buy a Mac that would be as good as this PC, and that would actually have more than one(!) USB 2.0 port, among many other deficiencies. I don't have enough confidence to create a Hackintosh. And Adobe keeps ignoring Linux, so …)
– Back up EVERYTHING, ALL THE TIME.
– Never again put anything in the "My Documents" folder. Make a folder of your own on a different partition, or at least directly under C:.
– Don't let Firefox remember your passwords unless you are absolutely positive that you will never forget them.
So I'm in New York now, and will continue to be so until the end of the month. Ilan is doing his annual visiting of family and friends, and I just tagged along.
What I've been up to:
* Working my ass off with my day jobs as usual
* Forcing Ilan to show me around interesting neighbourhoods
* Seeing Ilan and his band perform a few times
* Answering the question "So how do you like New York?" about five million times
* Eaten lots of very, very good food
Piggy street art in Williamsburg!
The doggies here are on average much smaller than in Berlin.
Stairs up to an abandoned house, one of three or four in a row.
There were lots of doggies in this room! Maybe it's some kind of doggie day care center?
My plan here was actually to force Ilan to take me to the exact place where the main part of this video was filmed, but there is construction going on there right now, and you can't access it. This is as close as we got!
There are many more photos on my Flickr.
As for my comics, you might have guessed that I'm in a rather wretched period right now. It has happened to me several times before, and quite often around this very time of the year. I just know that one day I will wake up and know exactly what I need to do next in Driftwood. Until then I will just have to suffer …
But in the meantime I've designed some more fabrics for Spoonflower. I made a new boar variation and a fabric with Eva(!). Sneak peeks below: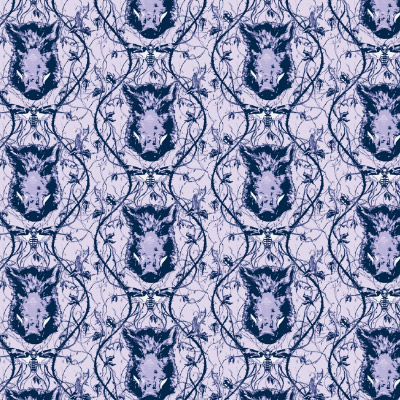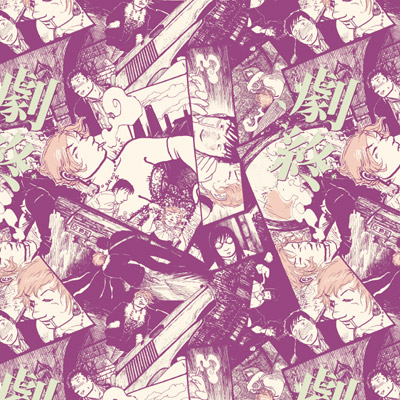 I made three different colour schemes for the Eva fabric. But we shall see how they look in print.
Some people have actually bought my boar fabrics. Whee!