Many people go through their lives and never build a shed. I am not one of those people.
I tragically had to give up my beloved DDR Trailer Trash garden, but early this summer I got another garden by a stroke of luck. It has a perfectly normal little house on it, in a bit of disrepair, but still quite bourgeois even, with fancy things like electricity and running cold water. The garden is big and has lots of potential, and it's right next to a small river.
This first summer and autumn I've been planting lots of new trees and shrubs and fighting the extreme heat and drought. And also I built a shed with a workshop/toolshed and a compost toilet, which is what this post is all about!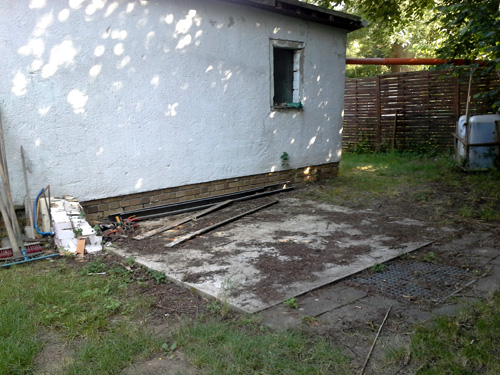 Behind the house there was already a concrete foundation, probably from an old shed that was torn down at some point. There was also a stash of used lumber, and other trash laying around, such as windows and rain gutters. So I didn't have to make a new foundation, and I only had to buy part of the building materials.
I'd done some repairs and built some smaller things, but I'd never built anything near a whole shed before. Basically I learned everything from the Internet, reading many different, good and bad, tutorials, while deciding on a design. (Special thanks to theoblackadder for his instructables, showing how to build pretty advanced stuff all on your own.)
Since I didn't have electricity in my old garden, I'd only used hand powered tools before, but now I got an electric drill/screwdriver, which was a very good thing to have for this project, where thousands of screws were drilled! I almost killed myself with the sawing, though.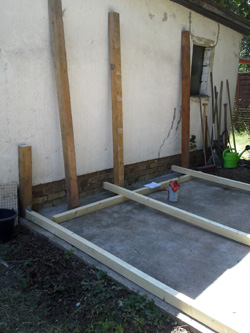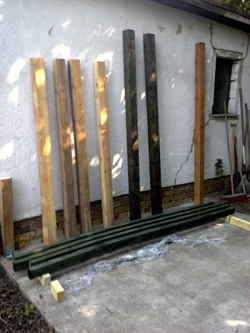 For starters, I sawed the huge 10×10 cm corner posts and the bottom and top beams for the side walls to the correct length. This is where I almost killed myself, sawing seven pieces of that dense, thick wood with a mere handsaw. One day I almost gave up, but then my neighbour invited me for coffee, and soon after getting all jacked up on his coffee I had somehow finished all the beams. Then I painted them.