Leipzig book fair report / piggy sketch dump
(Not 'Lepizig' as I mistyped it at first … not even 'Lezipig', although that's pretty much what I am these days.)
So, this year I had a table in the "artist alley" (MCC-Kreativ) at the Manga-Comic-Convention at the Leipzig book fair. I'd been there once before, way back in 2007, which was a rather disappointing experience, but this year they had allocated a much bigger and more open space for the self-publishers, so I decided to give it another go.
The fair was four days, Thursday to Sunday. Thursday was dead, Friday slightly better, and Saturday and Sunday were pretty good.
For extra awesomepants table decoration purposes I made two big Driftwood posters (with the cover images of Driftwood and Flotsam and Jetsam), and also refurbished a Playmobil ship to look a bit like the Eagle Ray. (You can see Shannon and Samona on board, while Aeron is not visible from this angle: he's at the wheel and can't see anything behind the main sail. For the other characters I didn't really have any Playmobil people that were suitable enough …)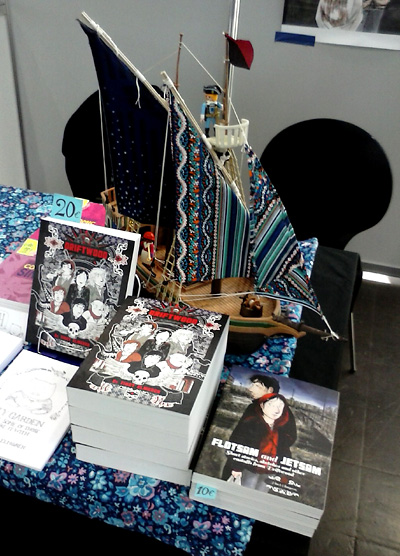 One funny thing about German vs. Nordic comics festival buying culture is that in the North (SPX Stockholm and Helsinki comics festival), the items I place on the corners of the table get most browsing/sales, while I discovered that in Germany (now in Leipzig, anyway) it's the items in the middle of the table. Above is my initial setup, but after I rearranged my books and put Driftwood and Flotsam and Jetsam in the middle, I sold many more of them.
Also, Germans generally want more of a sales pitch, which is too bad for me. Heh.
Another cultural peculiarity is that apparently people pay artists now at "manga" conventions to make commission drawings in their sketchbooks. In 2007 nobody paid for it, and it was mostly just little kids doing it (plus this legendary guy who wants all comics artists he can get ahold of to draw pictures of Rogue from X-Men – I didn't see him this year, though). So now I was bamboozled that people wanted to pay me for these commission drawings.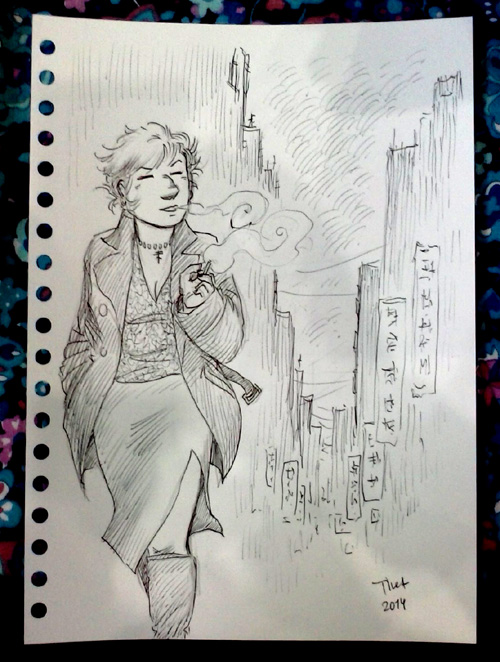 The first sketch I did was Eva with a weird wrist angle.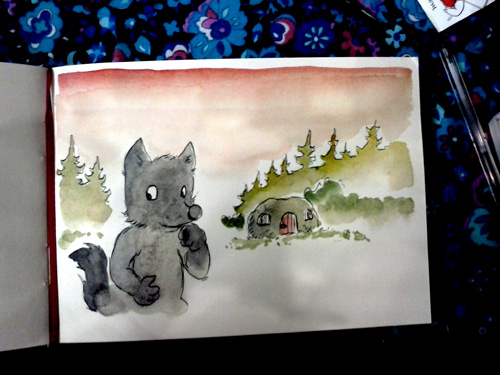 This was for a guy who had a theme – "something you read in your childhood or youth that made a profound impression". There were some really cool drawings in his sketchbook already. I was a bit stressed that he hovered around and read Swedish Comic Sin 2 while I tried to think of something good. In the end I drew Vargen from Bamse, a bit too grey because the paper was so thin that I didn't dare to paint more than one watercolour layer …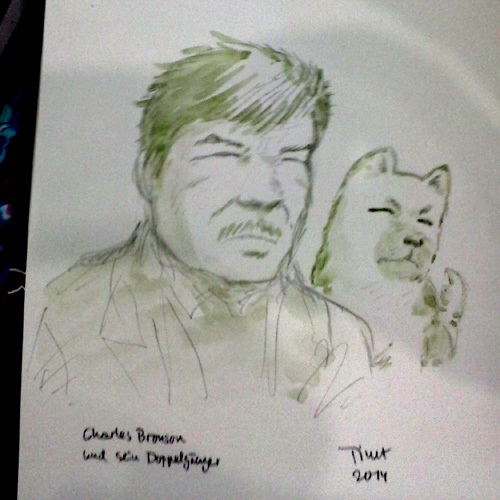 I also signed some Driftwoods. On this day I was wearing my Bronson shirt, so the guy asked me to draw something with him. After taking this picture I fixed Bronson's too high left eye and inked the outlines, but forgot to take another photo.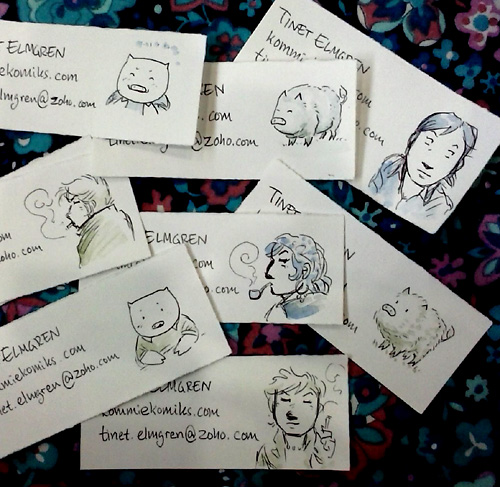 Something I passed a lot of time with was drawing calling cards. People kept asking for them and I didn't have any, so I made some on the spot. The one with Willie I liked so much, though, that I kept it for myself. :3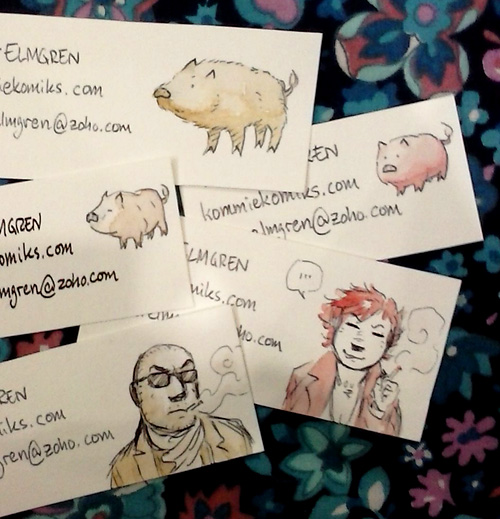 I also kept the Leopard and Eva for myself. :3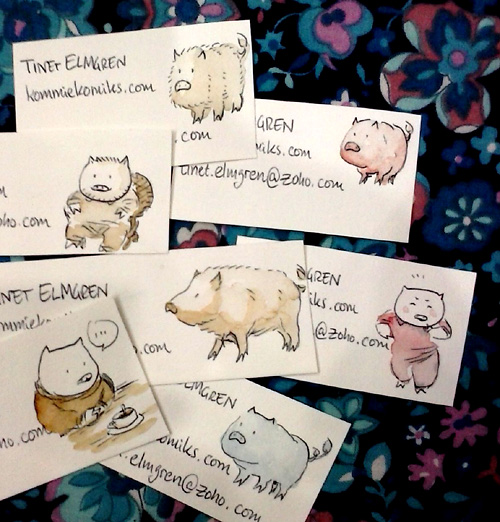 Mostly I just drew piggies, both anthropomorphic piggies and normal piggies.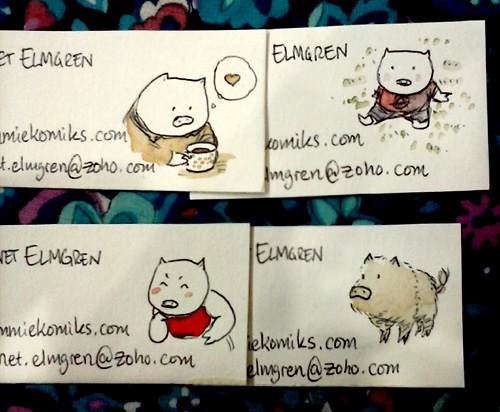 Piggies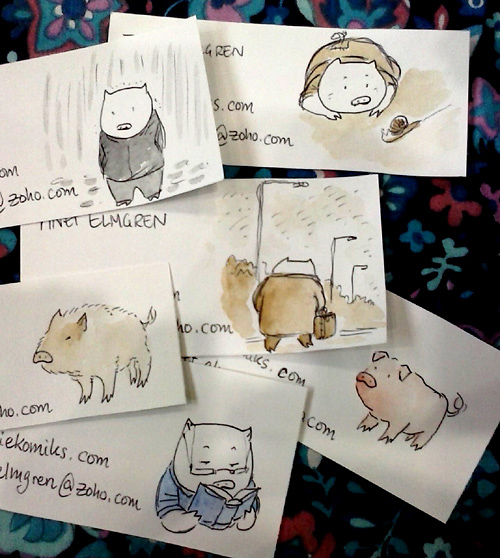 More piggies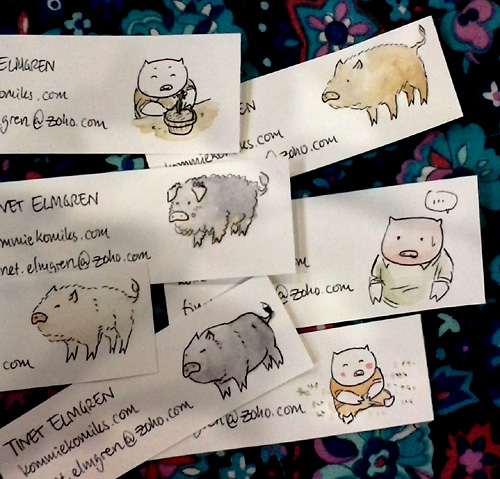 Mangalitza piggy in the middle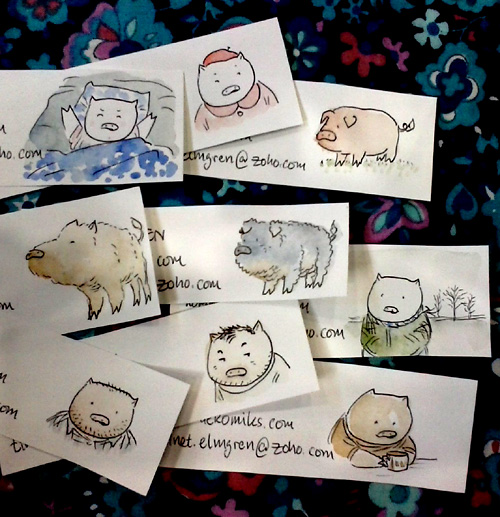 The final piggy batch! Watercolour has really grown on me since I've tried it with a couple of comics recently. I should do some more serious comics with watercolours …
I sold quite enough to cover the table fee and the train ticket, met some readers and made some connections. Perhaps I suffered a bit from how the comics culture in Germany is so sharply divided between "manga" and "comics", which means that my comics seemed too much like "comics" when surrounded by "manga" (in "comics" settings it's the opposite). Just like at the Leipzig book fair in 2007, almost everybody who bought my stuff were males (of all ages but mainly middle aged and above) who liked both "comics" and "manga". Quite few women, and also only ones that seemed to like both genres.
The best selling items of all were my zines Electric Tsunamis and My Garden. :3 (Maybe not only because I had them in the middle of the table at first?)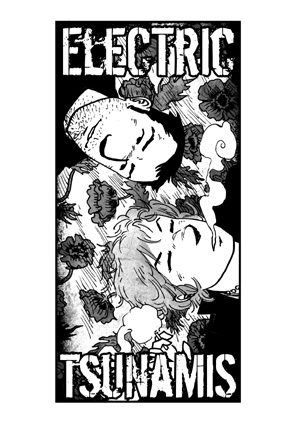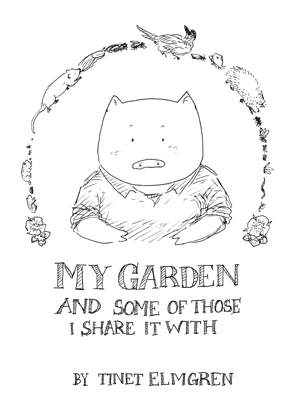 (I suspect one guy paid for Asbestherzen, but forgot to take it with him! If you are that guy, please email me your address and a description of yourself [for identification], and I will send it to you in the mail!!!)
There was a lot of amazing cosplay going on, and I felt a bit old since I didn't know who half the characters were …
I commuted to Leipzig by train every day, which was really quite convenient. On Saturday morning my ICE train even made a special unscheduled stop at Leipzig Messe – I was thoroughly impressed and thought it was really AWESOME that they actually bent the rules a bit to be more efficient. (It's a peculiarity of mine, I guess, that I strive to do everything as efficiently as possible, so it amazes me when other people make an effort in that direction as well …)
However, they could perhaps have scheduled some extra S-Bahn trains in Leipzig in the busiest evenings: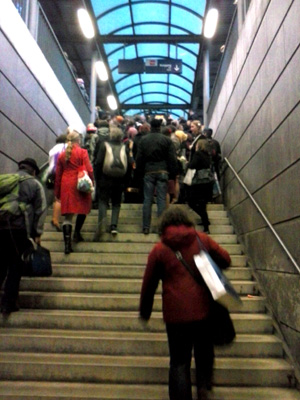 But it was all right in the end. V^(oo)^V