It's Helsinki Comics Festival tomorrow!
At Lasipalatsi Square in central Helsinki, the 28th edition of the festival has once more set up its tents. Now on Saturday and Sunday we will brave the Finnish September temperatures again … Luckily the weather seems a bit milder and less prone to floods than last year!
I've been so busy with boring dayjobs that I haven't had time to do any press work at all for Driftwood. This is the only photo I've made of the books so far (right after opening the first boxes upon delivery):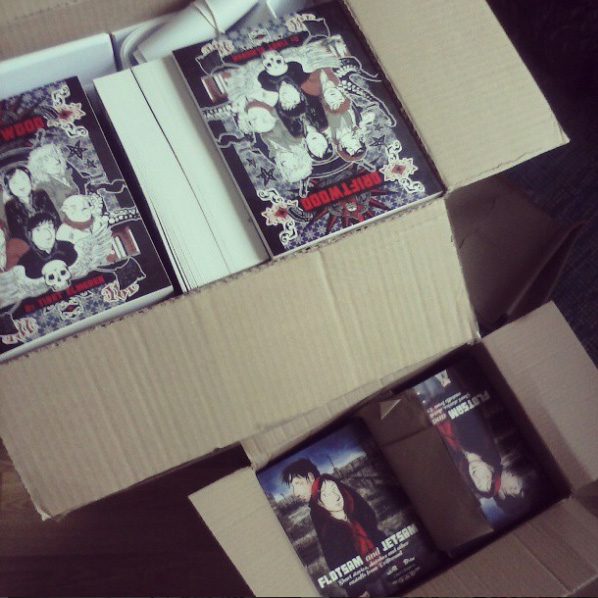 They are really awesomepants. I'll be selling Driftwood at the festival for 20 € each, and 10 € for Flotsam and Jetsam, the short story and behind the scenes info book.
Of course it's not enough for me to present only the big fat Driftwood book as a new thing at the festival. I also made a zine with (my apparently totally innovative e-book comic) Electric Tsunamis (in English), mainly because I want to see if I can sell more printed copies than Bonniers can sell electronic copies! 😀
I will of course also have all other English-language books and zines that I have currently in print …
See you this weekend – Saturday the 7th from 11:00 to 20:00, and Sunday the 8th from 12:00 to 18:00!
* * *
Bonus doggie etc. chalk drawings from the festival grounds: