Driftwood English edition crowdfunding campaign is on!
Now that Driftwood is finished, I'm printing it as a book. It was already published in Swedish last year. But the English edition is even better. Heh.
I've also put together the book Flotsam and Jetsam, with all the side stories, lots of sketches and illustrations from all the 17 years I've been working on Driftwood, and deleted scenes. There are also articles about what influenced me to create the story and the characters, and notes about interesting details such as Eva's mysterious breast expansion between chapters 6 and 7, or how telepathic powers aren't really a supernatural thing in my experience.
Anyways, the actual cost of printing the two books is 2220 €. I have some money put away … although I put it away in order to cover for medical and other emergencies if such should ever happen to me. But who cares about that when you can print comics!!
However, you can help me with the funds by pre-ordering the books.
You can also get both books as digital copies in PDF format. Handy if you don't like to be burdened by too many worldly possessions and don't mind reading books on your computer, or if you're not quite sure if you like it enough to get a printed copy.
I'm also making T-shirts that will look like this: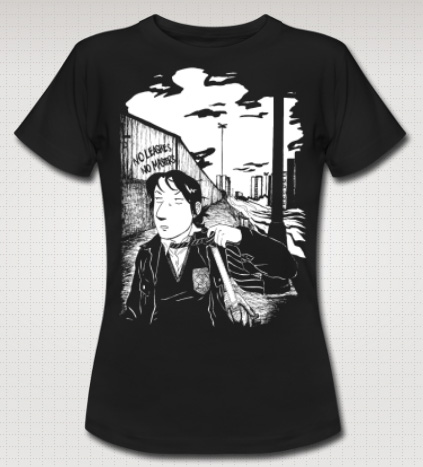 "No leashes, no masters" … I'll post actual photos after I get the test shirts. They'll be printed with Spreadshirt, and available in women's fitted sizes, women's plus sizes, and men's sizes. (And guaranteed no American Apparel sexist crap!)