A frog, some news and a recipe

Last year the frogs and toads never went to this smaller pond near the greenhouse, and the people I'm renting this place from said they never had gone there before.
But this year, for some reason, the frogs and toads have all decided to hang out there, too!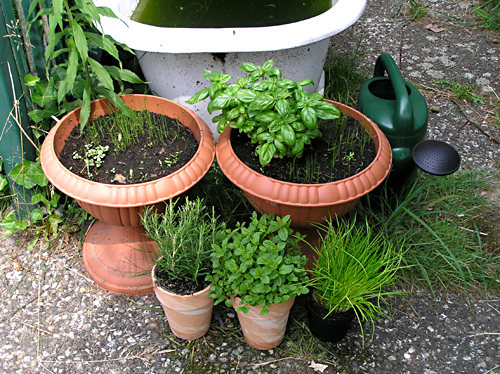 My herb garden got some additions: rosemary, mint and chives in the smaller pots. The two former were on a special offer at one of the supermarket chains, and I'm too impatient to wait until the chives I sowed will finally grow big enough to eat …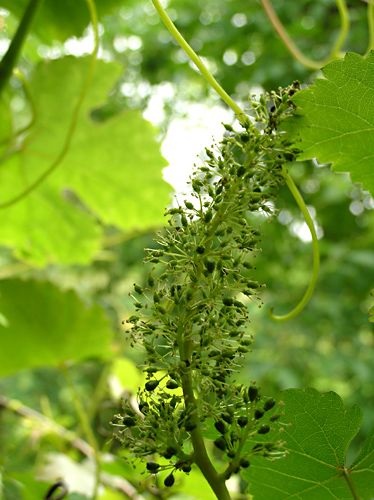 The grapes are in bloom now. I hope they'll make lots of grapes for me and the other animals who live here.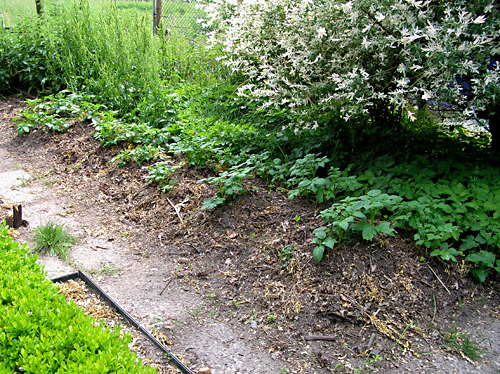 My potatoes are looking good. I was in the city for a couple of days, and apparently the kitty food I'd left for the slugs ran out in the meantime, but the potatoes are now so big that they didn't do much harm to them.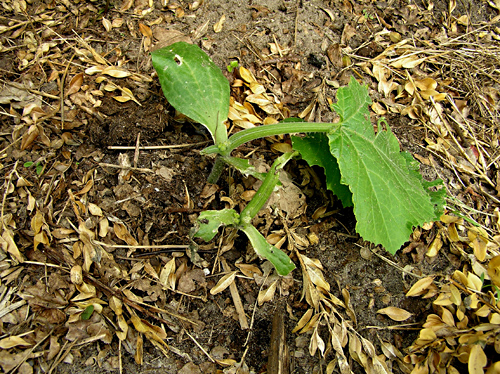 Not quite so for the poor zucchinis … Oh well, it's not like zucchini is my favourite vegetable. But maybe they'll still make it.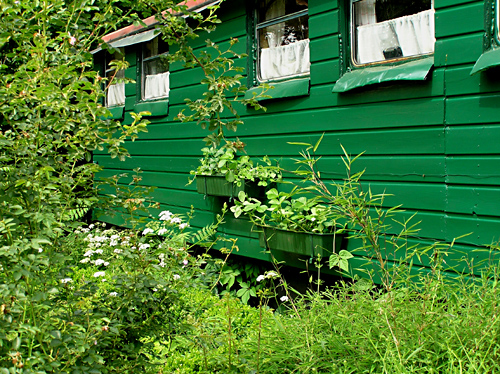 I put the boxes with strawberries, sweet peas and beans on the wall of my trailer, to avoid the slugs and to get more sun than they'd get in the greenhouse.
* * *
Recipe: Rose petal omelette
I have some rose bushes, both wild roses and regular roses. Now I suddenly realised that, hey — rose petals are edible! Most recipes out there are for sweet dishes, but I like salty things more … Finally I found an omelette recipe that I modified a bit.
It was just in time, too. They are about to finish blossoming now, and the regular roses had just one flower left, and one of the wild roses is all done.
Near the greenhouse there is a nice wild rose bush that kind of climbs, which still has plenty of blossoms.  It's not as aromatic as the regular roses, but it has a pretty purple colour.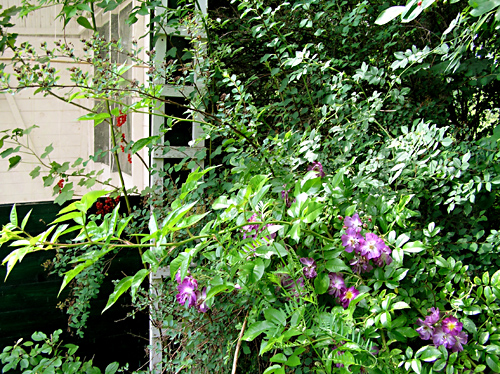 (In the background you can see the redcurrant bush, which has been leading a slightly sad and overshadowed existence behind some other bushes that I have now cut back a bit. Hmm, how should I eat the berries …?)
So, anyway, for my rose petal omelette I cut the one regular rose blossom and two of the pretty purple wild rose blossoms.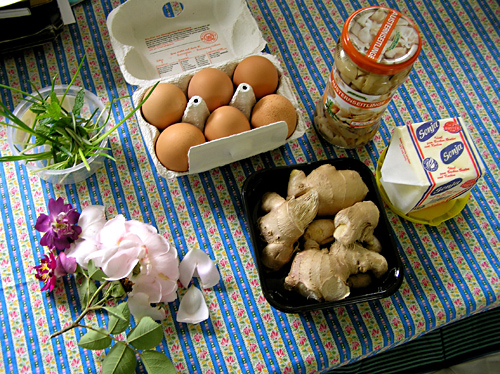 Other ingredients:
– fresh herbs: chives, rosemary and mint
– 2 eggs
– a little bit of fresh ginger
– canned mushrooms (I used oyster mushrooms)
– butter (Sonja is an old DDR label :3)
– a small clove of garlic (I forgot to put it in the photo because it's so self-evident – I rarely cook anything without garlic …)
– salt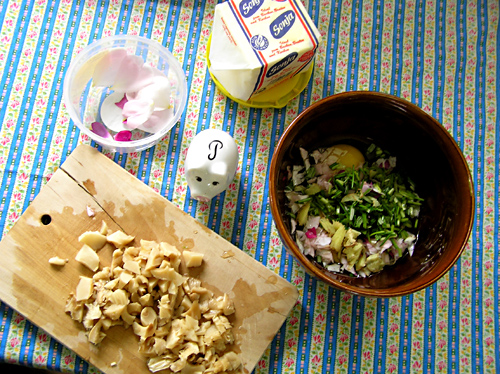 Break the eggs into a little bowl. Leave some rose petals aside for garnish, and finely chop all the ingredients. Mix everything but the mushrooms and garlic with the eggs. Fry the mushrooms and garlic first in a bit of butter, then add the egg mixture.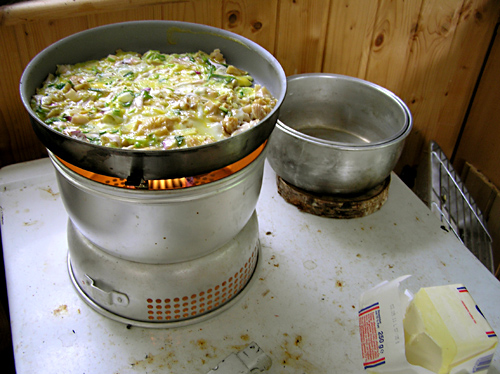 Stir a bit so everything is evenly distributed, then let it fry!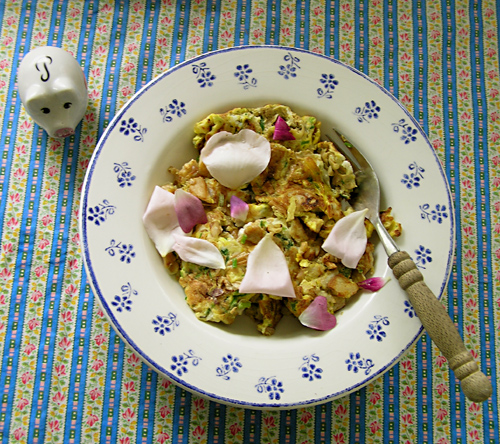 Put the omelette in a plate and garnish with rose petals. :3
This was the most delightfully fascinating omelette I've ever eaten. I didn't taste the rose petals so much, but I did smell them. (Even now my hands still smell of roses.) It's always fun to eat something that smells like a rose. The herbs, ginger and garlic took me through an array of different taste experiences.
Next year I'm definitely eating all of the roses.
* * *
P.S. My mum demanded a photo of my new bike. Now those 20 kilometers from here to the city go past even faster, and even the slightly more uphill way back here from the city, which used to be pretty brutal with my old bike, is perfectly bearable. (Of course still depending a bit on wind direction and strength …)