Preparing for SPX11 …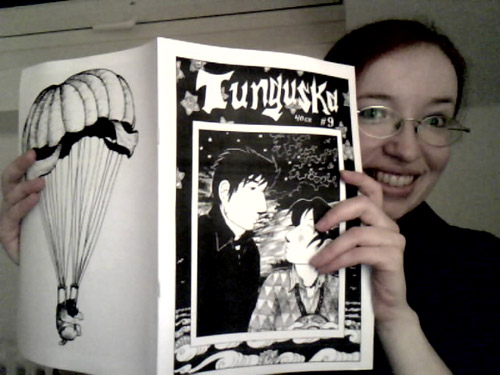 Today I arrived in Stockholm. Soon SPX11 will be upon us! I will be at the tables 64-65 — check out the map (pdf)!
I am very happy to announce that I did indeed finish Tunguska #9 in time for this. I worked for it day and night, cancelling or postponing jobs, sleeping 5 hours or less per night, overdosing on coffee.
Because I knew that if I did not finish it in time, my existence would be totally pointless. V`(oo)´V
I'm probably just in some kind of bubble of hubris right now, but I am a bit bewildered at what the hell Driftwood chapter 8 is. It's even worse in the Swedish version. There is no other comic like it. :o/
Anyway, I'll also have some back issues of Tunguska, and I'll of course be signing Eva books. I'll try to get both red and blue acrylic paint this time. :op
Saturday happens to be Free Comic Book Day. I still have a bunch of these two zines with two of Eva's adventures. Since then they have all been collected in the big book with all her other adventures, so these zines are kind of pointless.
SO: I'll be giving them away for FREE on Saturday. First come, first serve, baby …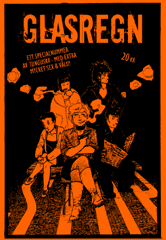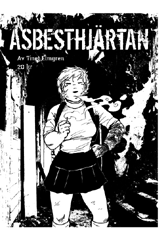 I've also contributed a comic to the anthology Comics Against Racism, which will be released at SPX. :o)
On Sunday I will be joined by Ainur, who will have some Goldenbird zines with her! She also participated in the erotic comics anthology Swedish Comic Sin 2, with probably the most epic erotic comic involving Soviet people and doggies (no, the doggies are not part of the erotic action … :3).
I'll also be sharing my table with my publisher Epix, as usual. This spring has been strangely productive for Epix's printers, and there is a huge bunch of new books that have come out. Check them out here.
All of those books actually deserve special mention, but EXTRA special mention is deserved by Miriam Katin and the Swedish edition of We Are On Our Own:
Miriam's son Ilan will be at SPX, on one hand representing his mum, standing around looking proud and telling anecdotes about Miriam and her mother, and on the other hand he'll be doing a live drawing event with some of Sweden's most enthusiastic comic book artists.
Bottom line: SPX11 will be EPIC on so many levels.