Trailer renovation progress report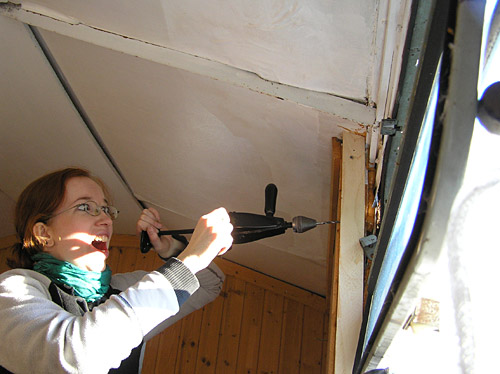 10:15 this morning: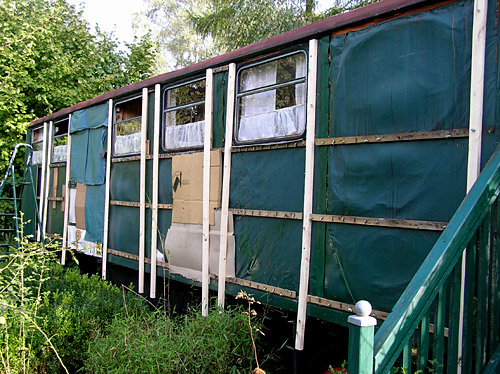 YES, I finally got all the support beams up! It only took me a few days!!!
Each beam took me about one hour. (-_-); They are fastened with huge screws that go all the way through the inside panelling, with additional support in the form of pieces of wood on the ends of the screws. It doesn't look very nice on the inside, but some of them are covered by curtains at the windows, others I can use to hang stuff from, and the rest I'll cover with tennis or ping pong balls or something …
I may have to put up another beam at the far end. Depends on how much I'll have left of the panelling once the main part is covered.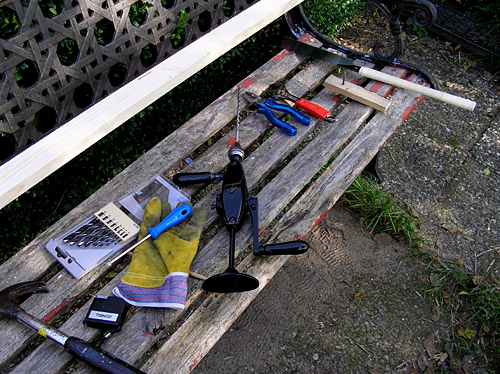 Some of my trusty tools – left to right:
– My badass hammer
– Measuring tape
– Drill bits
– Screwdriver #4 (I've screwed up three screwdrivers so far – finally I realised that the massive screws for the support beams are not Phillips, but Pozidriv – and also, I've stopped trying to drive screws into knots … So maybe the last two screwdrivers I got will last a bit longer …?)
– Glove (I screw with gloves on or else my hands will break, and also they make my grip stronger)
– My cutesy breast drill with an extra long drill bit
– Tweezers and wrench
– My kataba saw ♥
…
Around 16:00 this afternoon: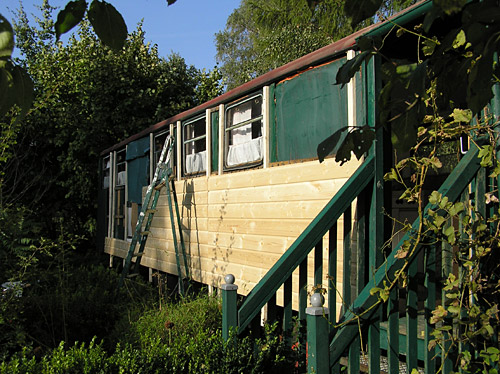 Whoa, once I got to the panelling things started to go a lot faster! At least the easy parts without any custom sawing …
It is very nice to work with shiny, fresh, fragrant wood … One of the voices in my head kept telling me, "Now if this isn't the prettiest wall we have ever made … :3"
Aaaand, shortly before dark, 18:30 this evening: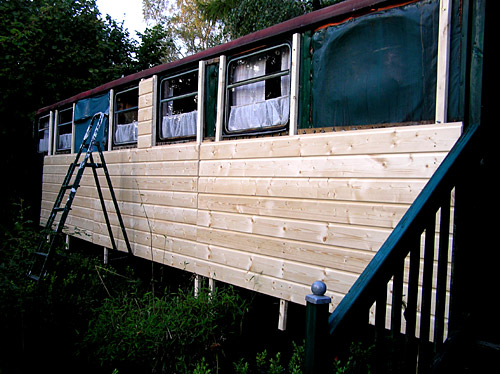 Whee, it's almost disturbing how the panelling fits nicely in exactly 8 + 5 rows. Though I guess I could have started a little higher up.
On top of the panelling, under the rainpipe and also under the windows, I'll probably mount aluminium sheet to keep the rain from getting behind the wood.
There is still a lot to do, but it looks a lot less depressing now. :o)