Den svenska barnpornografilagen och vad seriefigurer tycker om den
Klicka här för att läsa vidare / se barnporr som jag har ritat. (Ja, varsågod och polisanmäl mig!)
!!!OBS! Varning för massiva spoilers om man följer min serie Drivgods…!!!
.
(The Swedish child pornography law and what comics characters think about it
Click here to continue reading.
!!! Warning! Massive spoiler warnings for those who are following my comic Driftwood … !!!)
# # # # # # # # # #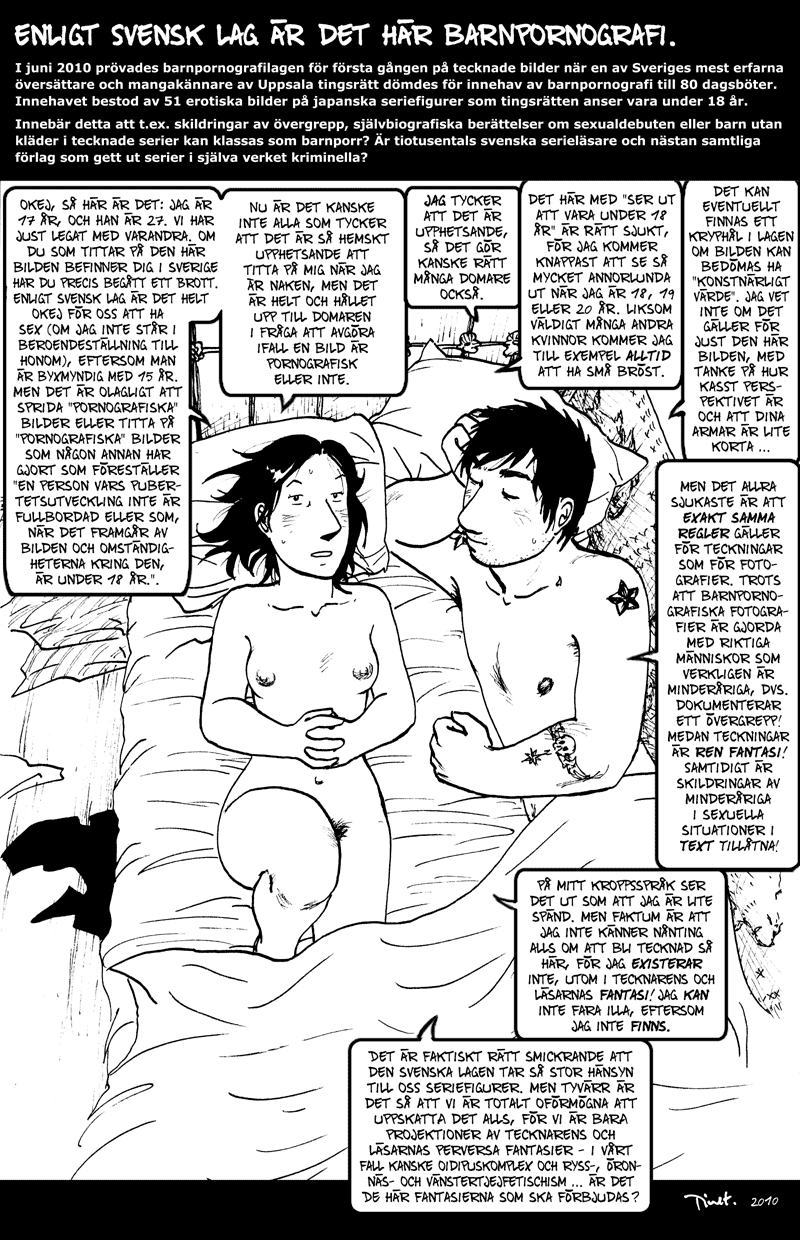 * * *
* Läs mer om bakgrunden till fallet, bl.a. varför husrannsakan genomfördes, i den dömdes egna berättelse: Den dömde uttalar sig
* Läs om barnpornografilagen hos polisen
* Artikel och länksamling om fallet ur serieperspektiv hos Seriefrämjandet
* Facebook-gruppen Stop comics censorship in Sweden
* Tanja Suhinina skriver väldigt bra om barn och sex (något som jag ju inte alls tar upp i den här teckningen)
* Lisa Medin kommenterar debatten och visar vägen till konstruktiva protestformer – kanske det vettigaste jag läst hittills
* Tomas Antila och Sara Berntsson skriver extremt bra om hur det känns att bli utpekad som pedofil
* "Jag är inte en tecknad figur" – ett blogginlägg från en person som utsatts för sexuella övergrepp som barn
* Karin Olsson från Expressen fick specialtillstånd att titta på bilderna hos polisen – länk 1, länk 2
* Tomas Antila rapporterar från rättegången i Svea hovrätt 15 januari 2011
# # # # # # # # # #
English translation:
Transcript below:
According to Swedish [and Australian, Canadian and New Zealand] law, this is child pornography.
In June 2010, the Swedish child pornography law was for the first time tried on drawings, when one of the most renowned translators and experts of Japanese comics in Sweden was convicted by the Uppsala district court of possessing child pornography and sentenced to pay 24,800 Swedish Crowns (approximately €2,650 or $3,400) in fines. The possession consisted of 51 erotic drawings (some of them identical copies) of Japanese comics characters, which the district court deems to be under 18 years of age.
Does this mean that, for example, depictions in comics of child sexual abuse, autobiographical stories about the artist's first sexual experiences, or naked children can be classified as child pornography? Are tens of thousands of Swedish comics readers and almost all comics publishers actually criminal offenders?
Willie: Okay, it's like this: I'm 17, and he is 27. We just slept with each other. If you, looking at this image, are in Sweden, you have just committed a crime. According to Swedish law, it's perfectly fine for us to have sex, since the age of consent is 15 years (unless I'm in a position of dependency to him, like if he was my teacher, guardian, priest, etc. – then the limit is at 18). But it's illegal to distribute "pornographic" images and to look at "pornographic" images made by someone else which depict "a person who is either under the age of 18 or who hasn't passed puberty".
Now, I don't suppose everyone thinks it's all that arousing to look at me naked, but it is totally up to the judge to deem whether an image is pornographic or not.
Aeron: I think it's arousing, so I guess quite many judges would, too.
Willie: This thing about "under 18" is pretty absurd, because I won't look all that different when I'm 18, 19 or 20 years old. For example, like a lot of other women, I will always have small breasts.
Aeron: There may be a loophole in the law if the image can be deemed to have "artistic value". I don't know if that applies to this image, considering how crappy the perspective is and how your arms are a bit short.
Willie: But the most absurd thing is that exactly the same rules apply to drawings as to photographs. Even though pornographic photographs of children are made with real human beings who are really underage, and thus are documented instances of sexual abuse of children! While drawings are pure fantasy! Meanwhile, it is perfectly legal to depict underage people in sexual situations in text!
When you look at my body language, I seem to be a bit tense. But in fact I don't have any feelings at all about being drawn like this, because I do not exist, except in the imagination of the artist and the readers! I cannot be mistreated, because I do not exist.
Aeron: Actually, it's quite flattering that the Swedish law is so concerned about us comics characters. But unfortunately we are totally incapable of appreciating it, because we are only projections of the perverted fantasies of the artist and the readers – in our case perhaps oedipus complexes and fetishes for Russians, ears, big noses or leftist girls … Should these fantasies really be forbidden by law?
* * *
* English-language summary of the case
* Neil Gaiman: Why defend icky freedom of speech?
* Conspiracy theories about how the law may in fact be all about Anti-Piracy
* Swedish Facebook group Stop comics censorship in Sweden
* * *
UPDATE, June 15th 2012: Simon Lundström has been acquitted in the Supreme court.