Nordic watercolour museum
As mentioned, while we were in Sweden just now, we went to see the  Art Comics Life exhibition about Nordic comics at the Nordic watercolour museum in Skärhamn.
Mum's cat Mr. Yellow followed us to the bus …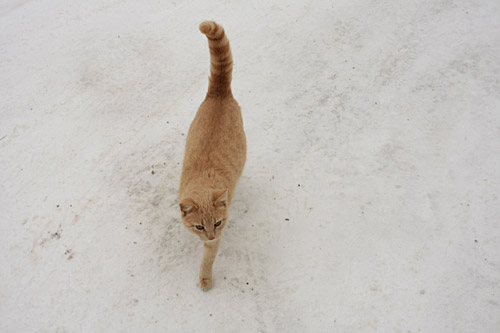 The museum is pretty new and not very big, and somehow I have always felt disappointed after seeing previous exhibitions. Maybe I'm being too hard on it. Maybe since I've lived in the area I feel like it's "our" museum and "we" have a part in potentially making it better by bashing it …
Anyway, I already got nervous when we entered the first hall on the ground floor, a big space that was used entirely for a reading lounge in one corner and a drawing lounge along one wall, with lots of empty space in between.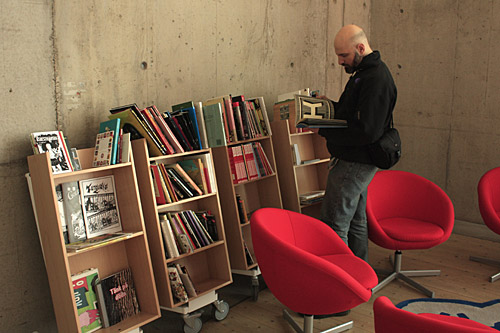 Above, Ilan is blown away by Matti Hagelberg's book about Kekkonen. For some reason hardly anyone except me and Ainur sent in fanzines, so we totally dominate the fanzine shelf. :op The other shelves have books, some of them by artists who are in the exhibition.
The actual exhibition was in the remaining two halls on the ground floor and in a small room on the second floor. Some of the works were nicely enough centered around a "coastal" theme to suit the museum's location. The pieces were for the most part original drawings (in some cases entire comics, which was very nice).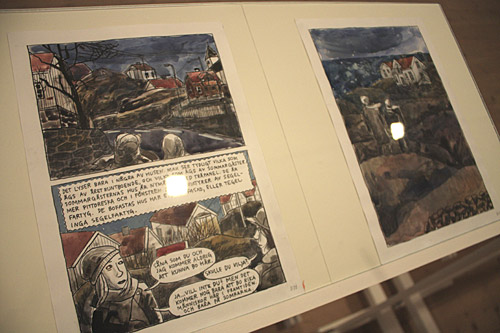 Anneli Furmark's autobiographical comic about her time at an art school on the Swedish west coast gave me a firm reminder of why I don't live in Sweden anymore. It starts with the author reading her old diaries, and being surprised and distressed that they are just full of embarrassing love&sex-angst, and that she apparently hardly wrote anything about arts and politics, although those things were so important to her back then.
What I don't understand is that she then still went on to write her comic the same way as her diaries are written, 90% love&sex-angst, probably painting a pretty distorted image of herself at that time in her life. But maybe she did it to exorcise those feelings, in both herself and potential readers?
Well, I would really have preferred to have read a story that had much more politics and arts in it … Above are two of the rare pages that don't have that much love&sex-angst, but focus on the coastal village and how they can see that it's transforming into purely a summer resort for rich people – that's pretty much the way it is today in many of the old fishing villages on the west coast.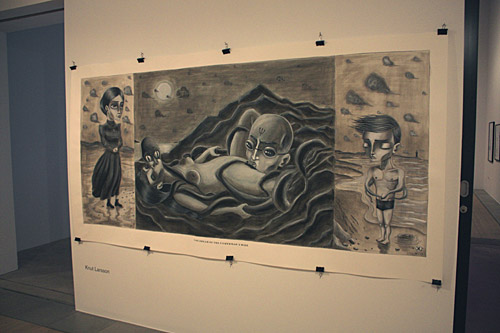 "The Dream of the Fisherman's Wife" by Knut Larsson, inspired by Hokusai …
Knut Larsson is one of my favourite Swedish comic artists. Unfortunately the way his comic was displayed didn't really work out so well … :o/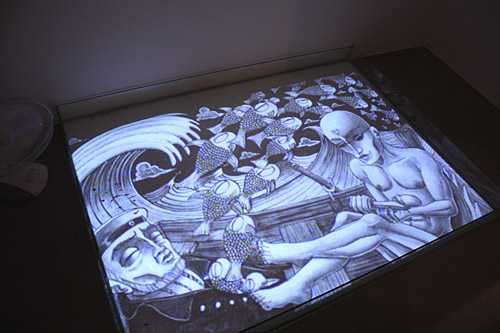 The panels of the comic were projected into a shallow glass box, and next to it was a little fan that was moving from side to side. All I could focus on when I watched it was the beautiful art and the wads of dirt being pushed around by the fan (visible here on the wave above the sailor's head). I thought of how the two museum attendants outside were having a lively discussion about shoes, and that maybe they should focus more on checking that the exhibition pieces were clean …
Later on when we shared our impressions, Ilan said that the water didn't really work out well in this piece, and I was like, "What, there was water in the box?!" The fan was supposed to ripple the water, but it didn't.
So, yeah. The artwork was really nice. Maybe it would have been better to show the original drawings instead.
There were some sculptures and videos at the exhibition, which I thought were not very interesting. Maybe because I'm an annoying purist who likes actual comics.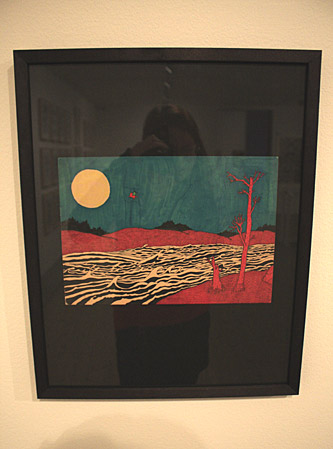 Me reflected in Kolbeinn Karlsson's crazy worlds.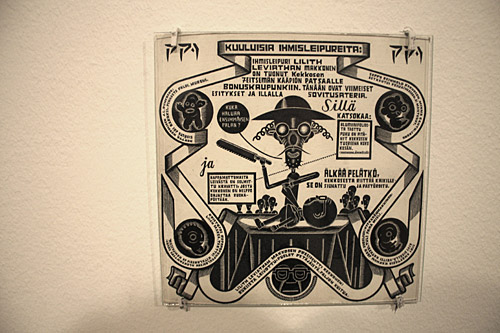 Ilan was particularly fascinated by Matti Hagelberg's amazing scraperboards.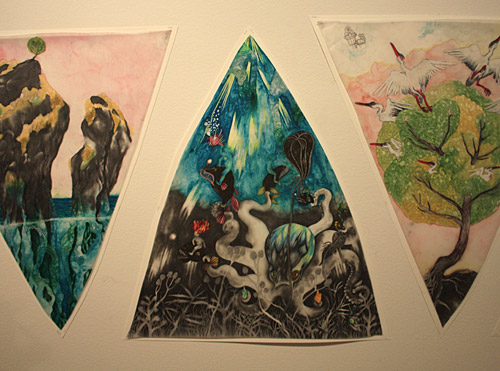 My favourite artist at this exhibition was perhaps Amanda Vähämäki. The above tentacular paintings have also been featured at an exhibition at the Fumetto festival in Switzerland. Below is part of an entire comic by her. I never would have thought she drew the originals in such small scale – each board is something like A3. Almost claustrophobic.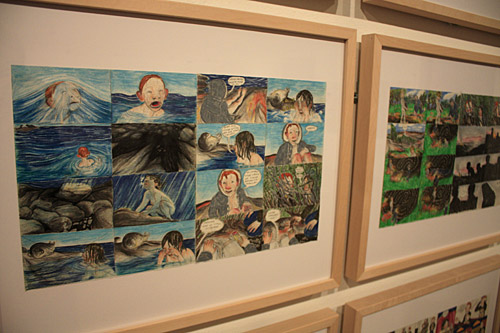 I had been looking forward to see what Li Österberg's contribution would be, but maybe it was not such a good curatorial choice to place it too close to Anneli Furmark's comic. I needed something strong to floss my brain after that, and the comic by Li Österberg was not it. Now I can't even remember what it was about. :o(
The little room on the second floor was entirely dedicated to the Icelandic comics group gisp! – I had heard of neither the group nor any of the artists before, and now I can't recall anything at all of particular interest from them, so maybe that's why. Okay, I'm a really terrible comics critic.
We were two of four visitors to the museum that day (well, it was a Tuesday in Skärhamn in February). After seeing the little exhibition we sat down at the drawing lounge in the big, empty first hall. Some previous visitors had left their comics there, among them two sadistic slash socially critical strips about pigs and how they just end up as food in the end, no matter what … >:(:)(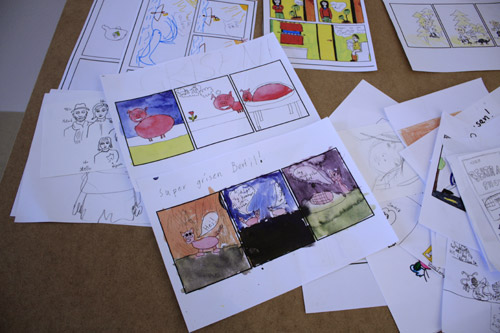 They had provided pretty nice gear – good pens, light tables and a big drawing table with magnetic strips that kept the paper in place. Bizarrely enough, both the sketching and the inking paper they had provided had thick frames already printed on it. O_o
On the reverse side of an inking paper, I was going to draw a comic based on our conversation about how I hate Swedish autobiographical comics. But I already lost interest before I had started drawing our arms.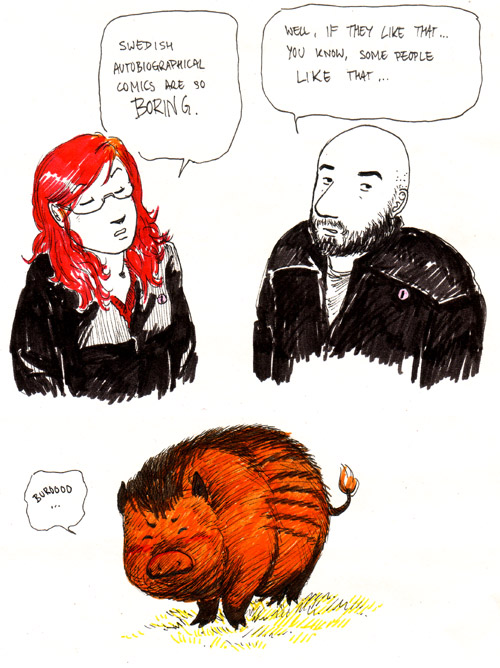 So I drew a piggy instead.
Overall, my expectations of being disappointed were, unfortunately, not entirely disappointed. I have seen more fulfilling exhibitions in much smaller spaces, like MoCCA in New York or Neurotitan in Berlin. Maybe it's something about the structure that makes everything seem small and silly, or maybe it's a curatorial thing, that somebody is not really able to use the space too well.
Afterwards, as we were eating locally produced overpriced fish burgers at a cafe while waiting for the bus back home … (They were 95 SEK – compare that to an okay halloumi sandwich or a really incredible coconut milk, chili, mushroom and tofu soup for the equivalent of 25 SEK each in Berlin) … we discussed what the entire point of having comics in a museum is.
One point I had was that when you do that, it has a tendency to become all OMG comisc is art!!!1 It's different from displaying paintings, because paintings are the end result – a unique piece of art – while comics originals are the raw material, to be scanned and printed and bound into the end result – a book, to be repackaged over and over in many different kinds of books.
Ilan the former art student thought comics at a museum are perhaps actually a nicer thing, because you can see the fascinating raw material at the exhibition, and then you can buy the comics in the museum store and take the end result home with you for little extra expense.