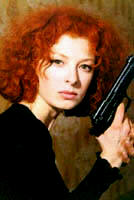 The story is about a poor, lonely girl who works in a video store. People call her Myshka, "the mouse". Somehow, through unexpected turns of events, she gets into trouble with the mafia, and has to change her identity.
Thus, she turns into the beautiful, strong and ruthless "Eva", who sets out to take revenge on the mafia for having killed her friends. But once the revenge is taken, she can't seem to shake off the underworld ...
According to some reviews I've found, this serial is actually one of the best produced by Russian TV in the past few years. It was made in 1999, about four years after I had created my character Eva. Maybe the producers Niyole Adomenaite and Anton Sivers read my comics and got inspired ...?